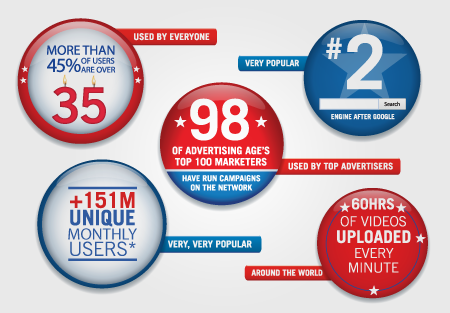 Do you think YouTube is simply an entertainment digital venue for watching videos of cute kitties playing the piano or where people place pranks they play on their friends? Yes of course it is that, too – but it's also a great tool for businesses as well. YouTube has become the world's 2nd largest search engine and in 2011 there were 140 online video views for each person on the planet. In addition to increasing awareness of your brand , video also helps to build trust and respect in your brand and can increase website conversion rates substantially. Even though you can choose to host your video on your own server or on a variety of websites it does make sense to select the Google owned overlord as your platform. The reason being is the fact that your videos secure easy entry into the two largest search engines in the world. Additionally it is remarkably easy to embed and share videos which are hosted on YouTube.
How can organizations/businesses use YouTube to attract customers
Your organization can benefit tremendously by utilizing YouTube to host your videos. Of course we're not talking about videos of cute babies taking a bath in the sink – unless you're a company which produces or services sinks. you can create promotional videos and post them on YouTube or any other video sharing sites. By optimizing them correctly (see below), as well as your entire YouTube channel, you can increase the popularity of your videos which, in return, will drive more traffic to your website with the ultimate goal of generating more leads.
On our video marketing page we explain in more details how you can use YouTube for your business.
YouTube Channel Customization
One of the biggest mistakes most people who create YouTube channels is leave its settings as they are, without any taking advantage of customization tools that this Google subsidiary offers. What 360 can do to customize your company's YouTube channel:
Consult with you and devise strategy for optimal YouTube results
Create YouTube Channel
Customize with your logo and a background either to match your website or create more brand awareness
Optimize other settings for maximum exposure and SEO
YouTube Channel Management
Once your YouTube channel has been created and customized, 360 can take over and manage it for optimal results in website traffic and lead generation.
Upload videos to YouTube
Optimize video title, description, tags, etc. for SEO
Connect with channel subscribers and visitors who comment
Moderate comments
Is your Detroit, Michigan business ready for YouTube services? Contact us to start taking advantage of this traffic generation tool.